A great time was had by all at the during National Pumpkin Day on October 23.
The Conejos Library District is now open
Guidelines for using the Library during COVID-19
Please wash your hands before using the computers
Face masks are mandatory during your visit to the library
Maintain 6 feet distance from other patrons
Use of computers is limited to 2 hours a day
Library Hours:
                       Antonito Branch
                                Thursday     11:00 AM – 4:00 PM
                                Friday          11:00 AM – 4:00 PM
Closed every other Saturday      11:00 AM -4:00 PM  beginning November 13
Capulin Branch
               Friday   11:00 AM – 4 PM
                Saturday           11:00 AM – 4:00 PM
Every other week the Capulin library will be closed beginning November 12
LaJara Branch

        Monday – Thursday  9:30 AM -4:30 PM
                                            Friday     9:30 AM -3:30 PM
Closed every other   Saturday 10:00 AM – 3:00 PM   beginning November 6
Continuing Library Renovations
We will begin renovating the conference room in the LaJara Branch library in October 2021. It will involve replacing the carpet with pergo flooring. We hope to complete by November. Story time and play area will be ready for use then. Please check with the library for dates and times. Use of the conference room will also be available for any meetings or club meetings you would like to schedule. You may call the library for dates of availability.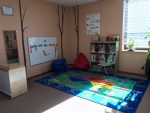 ---

We believe that all Colorado Children should have equal opportunities to realize their full potential and succeed in life.  Knowing that 80% of the brain develops by age three, we pledge to support efforts that promote early development and that build healthy supportive families and communities.  We recognize that earlier
is
easier. We encourage you to visit
www.earlieriseasier.org
to sign the pledge and to
Get
Tips and Activities for parents and caregivers of children from birth to age three.
Find
Early childhood resources and partners in our community.
Sign
the Earlier is Easier Pledge and show your support for all Colorado Children
---
Learn Computer Basics
The library occasionally offers basic computer classes after hours; call 719-274-5858 for more information.
---
Help With Your Job Search
Welcome Job Seekers! The
Colorado Workforce Center
can help you access information on services and benefits for Social Security, Veterans, Disabilities, Unemployment, Job Openings, and much more.