A big thank you to al those who supported our libraries by bringing baked goods and donating yard sale items for our fundraiser. It was a great success!

Library Hours
Main Branch
New hours beginning April 1, 2019
Monday 8:30 – 5:30
Tuesday 8:30 – 5:30
Wednesday 8:30 – 5:30
Thursday 8:30 – 5:30
Friday 8:30 – 3:30
Saturday 9:30 – 3:30
Closed on Sundays
Antonito Branch
Thursday 11:00 – 4:00
Friday 11:00 – 4:00
Saturday 11:00 – 4:00
Capulin Branch
Wednesday 12:30 – 5:30
Friday 11:00 – 4:00
Saturday 11:00-4:00
---
Early Literacy
Last summer we were able to give away Early Literacy Kits to daycare providers and caregivers of children ages 0-3.  Funded by the Growing Readers Together Grant through the Temple Hoyne Buell Foundation, the kits included board books, educational toys, manipulatives and tips.  We have some kits available to check out.   Please stop by and inquire about our kits.
We are enhancing our story time area!  Our story corner has been designed to encourage literacy with the small child in mind (ages 0-3).  Board Books, books designed to enhance early literacy, learning toys, and magnetic letter boards in a space just for kids!  We will be adding additional story times in the near future.  If you would like to volunteer for our story times please let us know!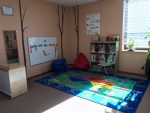 ---

We believe that all Colorado Children should have equal opportunities to realize their full potential and succeed in life.  Knowing that 80% of the brain develops by age three, we pledge to support efforts that promote early development and that build healthy supportive families and communities.  We recognize that earlier is easier. We encourage you to visit www.earlieriseasier.org to sign the pledge and to
Get Tips and Activities for parents and caregivers of children from birth to age three.
Find Early childhood resources and partners in our community.
Sign the Earlier is Easier Pledge and show your support for all Colorado Children
---
Learn Computer Basics
The library occasionally offers basic computer classes after hours; call 719-274-5858 for more information.
---
Help With Your Job Search
Welcome Job Seekers! The Colorado Workforce Center can help you access information on services and benefits for Social Security, Veterans, Disabilities, Unemployment, Job Openings, and much more.